Cute, but not kitschy. This is Hüftgold at the Meidlinger Market. And yummy. That too. From bee sting cake to poppy-seed cake, from tartes to candies – all confectionaries by Hüftgold are worth sinning for.
The probably smallest pastry shop in Vienna is the home of some of the city's biggest pleasures. And these are baked freshly every day. Without preserving agents. Or artificial taste amplifiers. But with the natural aroma of the passion of Hüftgold's pastry chef. Mark Ruiz Hellin used to work in advertising, but decided to turn his passion for cakes into his profession. He was bored by ever the same confectionary offer of Vienna's pastry shops. So he started his own business which was planned to be a mere cake bakery at first. Today, however, it is a charming place to stay and enjoy. The cake and cookie specialities are served alongside coffee specialities. Namely, by Fürth Kaffee, a small high-quality roastery in Lower Austria that shares two things in particular with Hüftgold: a sense for refined pleasures and the love for its handicraft.

At Hüftgold the finest beans meet the best confectionaries for a culinary experience that would be worth a long journey. For those who stay at PhilsPlace, however, it only takes a 10-minute bus ride to get there. The line 63A directly leads you to Niederhofstraße, from where Hüftgold lies within a 2-minute walking distance.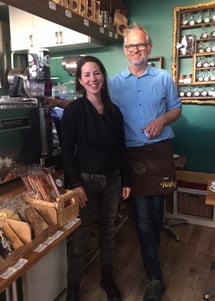 Our PhilsPlace General Manager Kristin has tested Hüftgold for you. Her conclusion: Extraordinary! And absolutely worth a few extra pounds on the hips. Besides the delicious cakes she particularly liked their creative names.

By the way: In case you do not want to keep the extra pounds as a souvenir of this special gourmet experience, no worries – at the recently opened McFIT fitness studio right next to PhilsPlace you can get rid of them easily. All pleasure. No regrets. This is how we do full-service.
Picture: © Juan Velázkez