Nobody knows our guests and their needs better than Sanela. She has been our housekeeper since the beginning of this year and makes every wish come true – even for those out of the fairy tale "The Princess and the Pea". In an interview, she tells us her most beautiful stories and what motivates her every day to provide the best service.
You have been our housekeeper since the beginning of 2019 – what did you do before?
I have been a maid myself for seven years and a housekeeper for two more years in two different Viennese hotels.

Now you are the supervisor of the housekeeping staff – how big is your team?
A total of seven chambermaids, two substitutes and a cleaner for all public areas work with me. Depending on the occupancy rate, I decide how much staff is needed per day – not as easy as it sounds, because I am responsible for over 5,000 m2 of space.

How does your experience as a chambermaid influence your current work?
I pay attention to every little detail and see the prepared rooms with a completely different view, the guest's view. After all, this is essential in order to feel at home as soon as you enter a room.

What does a typical working day look like for you?
My day starts at 07:00 in the morning. I pick up the list of arrivals and departures at the reception every day. Depending on this, I then create the duty and cleaning schedules. The reception will also tell me what services the guests want, i.e. how often they want cleaning, whether more towels or pillows are needed, etc.

Apropos customer wishes – what do guests ask for most often?
Microwave, flat iron and ironing board. Special requests are rather limited, some guests ask for example for an extra bed for their children or a visitor. Animals are also allowed, so you can also ask for a dog bed or something similar. Our guests can express their wishes at the reception, which then informs me directly.

Is there a wish that you remember?
Oh yes! One guest wanted to take his own mattress with him, but that was not enough for him – he asked for three more. I probably would have needed a small ladder to reach the bed (laughs). You don't see "The Prince and the Pea" in real life every day! For guests who stay longer, we try to adapt the apartment as much as we can.

Would you rather live in an apartment yourself than in a hotel?
I often don't feel at home in hotels. I can't cook for myself, I have to eat out and pay extra. It's different in the apartment. Cooking, in my opinion, is a big part of feeling at home away from home. You can quickly go to Hofer or Merkur, buy a few groceries and create your own dishes. Just like in a small apartment!

Do many people cook for themselves?
Yes, definitely, we see that when the kitchens have to be cleaned. Especially in summer, when many tourists stay overnight, they cook a lot. No matter which guest and from which culture – it can be a simple fried egg or an elaborate Asian dish.

What other advantages do you have as a guest, especially as a longstay?
You can take personal belongings with you into your apartment and make it even more comfortable and individual. Many of the rooms also have their own washing machine, a walk-in wardrobe and plenty of storage space.

What do you enjoy most about your job?
Every day I meet people from all over the world, I see and learn new things again and again. Of course there are stressful days, just like in any other job. I am a communicative character and my main goal is to motivate my team every day, no matter how exhausting the day becomes. As a supervisor, it is important that I ensure a pleasant working atmosphere, because this also has an effect on the quality of our services.

What motivates you every day?
Happy guests mean a lot to me. Most of the time it's the small things!
Once a guest desperately approached me with a dirty shirt that he couldn't clean himself. I tried it without further ado and it became clean again. When you see how easy it is to make people happy, you have even more joy in the work.
Thanks to Sanela for your time and the beautiful conversation!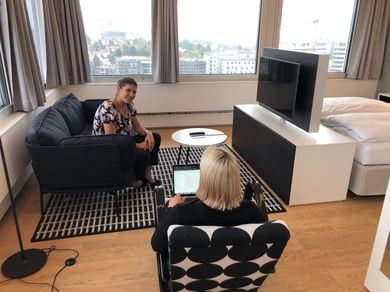 Sanela Vojic, Housekeeper at PhilsPlace
Picture above: ©Rawpixel.com/Adobe Stock
Picture below: ©PhilsPlace