Situated between city and countryside, directly in the heart of a strong business location with a broad range of leisure activities. More than enough reasons for the investors to revitalize the former Philips Building and reopen as PhilsPlace.
The starting signal was given in the year 2012, when the Philips company was looking for a new location and established itself in the business park on the Wienerberg in the Euro Plaza. Suddenly, the architectural icon that had been constructed by Karl Schwanzer in the 1960s was vacant.
But what was to be done with such a striking building, situated directly by the southern entrance to Vienna and radiating its brightly-lit glow across the Wienerberg at night? A building that has such a positive connotation for many Viennese people. The investors 6B47 Real Estate AG and the Sans Souci Group recognized the potential of this building and the location.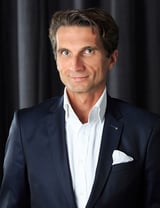 "Since the beginning of my time in real estate development, I have had a real passion for historical buildings,"explains Dipl.-Ing. (FH) Norbert Winkelmayer, managing director of the Sans Souci Group. "Even as a young lad, I was fascinated by this building created by Karl Schwanzer when I used to play football on the grounds of the Ziegelteich lake next to it. With PhilsPlace, we have once again been able to revitalize a historical building and simultaneously breathe new life into a design icon with a visionary concept."

Situated between the city and the countryside, this area is currently developing into a strong business location: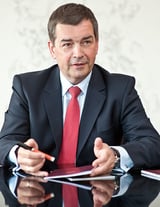 "The Wienerberg is a very diverse neighborhood," says Ing. Friedrich Gruber, member of the executive board of 6B47 Real Estate Investors AG. 'Here, business and offices meet sports and leisure activities – all against the backdrop of an exciting residential area, of course. The imminent U-Bahn (subway) extension will provide additional value here. But with PhilsPlace – that is, the apartments, serviced apartments and the commercial use of the ground floor – we are already creating sustainable appreciation of the Wienerberg location."

In choosing the name PhilsPlace, a link between the past and the present has been established: with a nod to Philips, today's PhilsPlace is "a place to be" - a wonderful place in which to live and spend time.
title picture: from left to right: Peter Ulm (CEO 6B47), Norbert Winkelmayer (manager Sans Souci Group), Marcus Franz (district leader Favoriten) and Friedrich Gruber (board member 6B47)
portrait Norbert Winkelmayer: ©Philipp Simonis | portrait Friedrich Gruber: ©6B47