Clear lines. Puristic shapes. A discrete colour concept. An timelessly cool style connects the apartments at PhilsPlace. In an interview, our interior designer, Lilo von Pretz, expands on a very distinctive living space in which both aesthetics and functionality are at home.
The furniture at the PhilsPlace apartments is reminiscent of the interiors you would see in the 60s and 70s. What inspired you to take this stylistic direction?
The Philips building was planned and constructed in the 60s, and we wanted to revive the spirit of this era in the PhilsPlace apartments too – not just by taking selected design classics from this time, such as the Drop chair by Arne Jacobsen or the Topan pendant lamp by Verner Panton, but above all by creating intelligent, adaptable space solutions that could already be seen changing the landscape of (interior) architecture in the 60s.
What was particularly important to you when choosing the materials?
We used only high-quality, durable materials. The clear shapes and neutral colours reflect the PhilsPlace brand identity. The customised, handcrafted wooden furniture was designed especially for this project, and sets the tone as the background for selected furniture and lamps that add colour accents.
Easy. Cosy. Cool. This is the PhilsPlace motto. What elements create this living ambience in the apartments?
"Easy" represents flexible living in six different, completely furnished types of apartment with all services on demand. The harmonious colour concept and exclusive upholstered furniture ensure that special feeling of cosiness. The guests also have the option to personalise their temporary home with plants, pictures, record players and more. Living in an icon of Austrian architecture with a view of the whole of Vienna (or into the surrounding nature) is pretty cool in itself. But naturally, the timeless design concept adds to the cool factor of PhilsPlace.
Life in PhilsPlace combines opposing concepts: business and pleasure, design and comfort, black and white. How do you create harmony in a living space so rich in contrast?
PhilsPlace shows that, in the right measure, opposites can attract and complement one another. True to the motto "Form and Function are One", they interact in harmony.
For long-stay guests in particular, it is important to have storage room and sleeping options for visitors. How did you balance out this practical need with the characteristic effortlessness of the design?
One of the biggest challenges in the interior planning was finding a symbiotic relationship between aesthetics and functionality. PhilsPlace stands for flexible, intelligent living, without neglecting the stylistic components in order to achieve this. Various apartment types are available to fulfil the needs of various target groups: for example, the apartments equipped with a spacious desk that can be transformed into a comfortable guest bed in the blink of an eye are perfect for long-term guests. The generous cupboard space can also really come in handy for longer stays.
PhilsPlace's promise is to provide everything that one would expect from a real home. What makes somewhere home for you?
For me, home is a feeling (of happiness), which is evoked by people, memories, smells and objects. PhilsPlace offers a "temporary" home that makes it as easy, cosy and cool as possible for guests while they are away from home.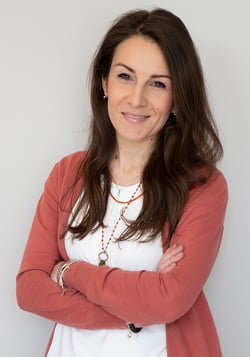 PhilsPlace promises feel-good living for all. However, this means something different for every guest. How does a serviced apartment suitable for all address the personal desires of the individual?
The guests have six different types of apartment to choose from, which vary in size, colour concept and furniture, and take into account various living needs. For everything else, that's what the PhilsPlace team is there for, with a comprehensive, customisable service offer designed to provide a pleasant, unique stay for all guests.
portrait: @Lilo von Pretz