Before Xavier Plotitza took on the position as CEO of METRO Austria in November 2018, he lived in Paris. Today, the frequent flyer spends most of his time in Vienna. And as a longstay guest at PhilsPlace. In an interview he tells us how he likes staying with us. And why it remains important for successful collaboration to be onsite as CEO, even in times of digital communication.
You are CEO of METRO Cash & Carry Austria and have opted for temporary living at PhilsPlace. Why did you choose a serviced apartment over a flat?
I took over as CEO of METRO Austria last November. At that time, my main residence was in Paris. The services provided by PhilsPlace convinced me, as did the very practical proximity to our headquarters in Vösendorf.


You travel a lot. What's the life of a frequent flyer like? How do you use the travel times?
Being on the road so much requires very good organisation and routine. Any time, be it the trip to the airport or waiting for the plane itself, is used for telephone calls. I consciously use the flight time to read newspapers and prepare myself for appointments, electronic devices and digitalisation help me a lot.


In times of digitalization, in which the technologies for remote communication are getting better and better - how important is it still to meet up in person?
Digitalization helps us to make our daily work easier. The personal exchange and conversations with each other will always be important - because we humans are social beings! Our industry in particular shows how essential personal relationships are: Our customer managers are in daily contact with our customers and coordinate their activities. In this way we can respond quickly to new requirements or are already a few steps ahead and offer trends even before they arrive in the catering trade.


In what ways will digital communication media never be able to replace a face-to-face meeting?
Digital communication requires that you are already attuned to one another. Digital communication is useful to coordinate. But interpersonal communication can only exist between people.


What value does it have for you to be onsite in your role as CEO?
For me, it's not just being onsite that counts, but being right in the middle is a basic prerequisite for working together, regardless of your role as CEO.


How does it feel to return to PhilsPlace after a long journey?
It's a good and familiar feeling.


How did you actually find us?
My assistant, Monika Nzekwu, is very attentive and discovered the full-service apartments of PhilsPlace for me shortly before searching for a place to stay.


What criteria do you use to find accommodation for business trips?
Well located, meaning close to my destination, is the most important one. And good value for money.


What do you particularly like about PhilsPlace?
The Triester Straße offers a good connection in both directions, out of the city, but also into the center (depending on the time of day). PhilsPlace is a very modern and pleasant place to stay, without parking problems. I appreciate the fitness center right in the house. The apartment also has a well-equipped kitchen, but even if you don't want to cook yourself, you will find a wide variety of culinary offerings on the spot.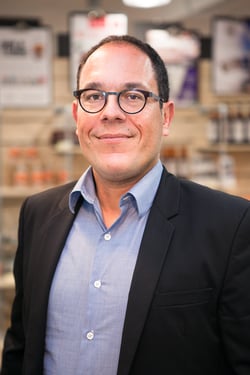 Xavier Plotitza
CEO of METRO Austria
We thank Xavier Plotitza for the time he took to interview us. We are happy when we can create a place to feel at home for someone who travels so much. And if you want to share this place with family and friends, we always welcome you and your guests at PhilsPlace. Just inform the reception and we will take care of everything else for you.
Picture: ©anyaberkut/AdobeStock | Portrait: ©Xavier Plotitza