There won't be a dry eye left in the house. The legendary cinematic romance "Bodyguard" with Whitney Houston is currently being performed as a musical in the impressively imperial Ronacher theatre. A production that shines not only thanks to its soul, but above all its heart.
A dazzling soul diva at the height of her career. A psychopath planning to assassinate her. A bodyguard who loses his heart to the pop star, and very nearly his life in order to protect her. When it comes to drama, the cult film "Bodyguard" can hardly be topped. And it certainly can't be outdone in romance. 26 years after the premiere, there's no doubt about it: Love still endures.

"Bodyguard" became world-famous in particular thanks to its yearning ballad "I will always love you" – one of the most successful soundtracks in film history, which practically screams to be performed on a musical stage. And that is exactly what the Ronacher theatre is providing for until 30.06.2019. By the way, our PhilsPlace guests can reach the theatre quickly and easily in 25 minutes with the U6. The Ronacher is located directly next to the stop Gumpendorfer Straße.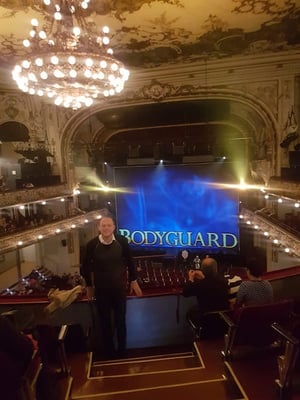 "I wanna dance with somebody" to "Run to you" to "I have nothing", the play features all the tracks from the cinematic tearjerker. Not only with an impressively choreographed production, but also with powerful vocal strength. Particularly the two lead performers win over the audience with their fantastic soul, according to our resident manager Klement Petzner-Gumbo, who has already checked out the performance for you. The exceptional musical performance also provides consolation for the fact that the musical was unable to portray the suspense in the same way as the film. What the piece is lacking in thrill is made up for by an extra dose of romance.

To sum it up in the words of Frank Farmer: "That's how we know we care about something, when we're afraid we'll lose it. I'm afraid of not being there." Don't miss out on this fantastic musical experience, and make sure you will be there! Fans of sweeping emotions and affectionate kitsch will be delighted.
By the way: For our guests, buying tickets for musicals and other cultural events is just as easy, cosy and cool as the lifestyle at PhilsPlace. The tickets can be bought directly at our reception.
Picture: © THE BODYGUARD (UK) LTD