Regional or international, savoury or light, down-to-earth or experimental. Along tramway line 1, just a few minutes from PhilsPlace, you can discover culinary treasures at every station. We have gathered the best of them for you. Hop on and join us on our little journey through the 4th district of Vienna.
First stop: Laurenzgasse
Vienna meets France: Duspara Restaurant & Bistro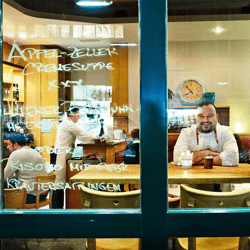 "A little French, a little Viennese. Whatever you like." This quotation describes the restaurant of Danijel Duspara to the point. The former gourmet chef from Steirereck has been cooking in Vienna-Margareten since 2015. In the cosy restaurant he offers his guests daily changing lunch menus for little money. Always at the highest level, yet never overblown. But in the evening he likes to step it up a bit. Would you like a taste? How about duck liver parfait with spicy quinces and fluffy brioche or smoked trout ribs with fruity fennel salad?
Where? Wiedner Hauptstraße 115
When? Monday to Friday: 11.30 – 15.00 and 17.30 – 23.00, Saturday: 17.30 – 23.00
Phone: + 43 (1) 94571200
Next stop: Johann-Strauß-Gasse
Burger, Steaks and Co.: SalzBurger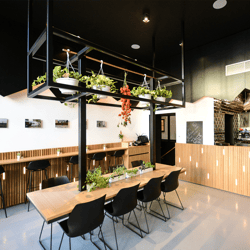 On two floors (the upper one minimalistic, the lower one noble) the SalzBurger offers everything your heart desires. Guests can choose between hearty starters (also vegetarian), several burger creations, steaks or salmon fillets. In addition there are varied side dishes and a small selection of desserts to finish the meal off. A little tip:Iit is recommended to book in advance in the evening.
Where? Wiedner Hauptstraße 75
When? Friday to Saturday: 11.00 – 24.00, Sunday to Thursday: 11.00 – 23.00
Phone: +43 660 1040200
Fusion Kitchen: Dining Ruhm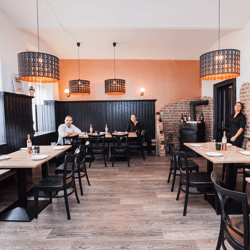 Dining Ruhm is also located near the Johann-Strauß-Gasse station. The two Ruhm brothers offer exciting and modern fusion cuisine, which combines components from Japanese, Peruvian and Austrian quality products into a new wholesome creation. Classic dishes are being creatively reinterpreted: sashimi from Austrian salmon trout, ostrich fillet with Peruvian sauce or pork belly with miso. Sommelier Sascha Ruhm meanwhile ensures that the exquisite wine and sake menu is perfectly matched to the latest dishes.
Where? Lambrechtgasse 9
When? Tuesday to Saturday: 11.00 – 14.00 and 17.00 – 23.00
Phone: +43 (1) 9452224
Next stop: Mayerhofgasse
Variety at a high level: Restaurant Tancredi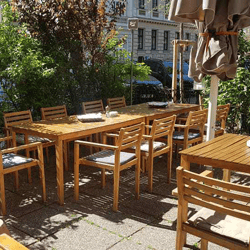 "There's no favourite kitchen for me." That's Peter Neurath's credo, cook at Tancredi. And this is also reflected in the menu: Here you can discover dishes with local, Mediterranean, Asian and Arab influences. Quality comes first: The products are purchased exclusively from local retailers. Whether fish, meat or vegetarian, the Tancredi offers exquisite dishes for every taste. From Monday to Friday, several inexpensive lunch menus are also offered. Particularly beautiful: The secluded green garden is a small oasis in the middle of the 4th district.
Where? Große Neugasse 5
When? Monday to Friday: 11.30 – 14.30, Tuesday to Friday: 11.30 – 14.30 and 18.00 – 24.00, Saturday: 18.00 – 24.00
Phone: +43 (1) 9410048


It doesn't get any more Italian in Vienna: Restaurant Sebastiano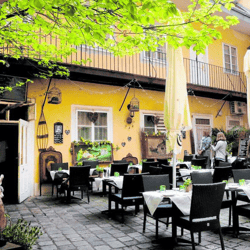 The Padrone himself cooks in the oldest Biedermeier house in Wieden. Here you will find classic, authentic Italian cuisine with a focus on sea specialities and innovative, homemade pasta creations. Furthermore, genuine Italian pizza. Our tip: If the weather is nice, enjoy the wonderful garden!
Where? Mayerhofgasse 22
When? Tuesday to Wednesday: 12.00 – 14.30 and 18.00 – 23.30, Thursday to Saturday: 18.00 – 23.00
Phone: + 43 (01) 5054117
Vienna as it lives and breathes: Wieden Bräu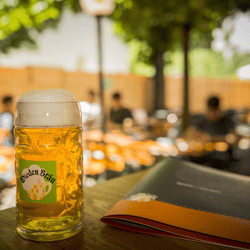 The oldest Wiedner Gasthausbrauerei spoils you with naturally cloudy, freshly brewed beers and original Viennese delicacies. Food and drink can be enjoyed in the cosy inn as well as in the shady garden. Here, the Wie(d)ner Schnitzel with the home-brewed cool blonde tastes even better. By the way, the beers are award-winning and even received the Falstaff Beer Trophy in 2019.
Where? Waaggasse 5
When? Monday to Sunday: 11.00 – 24.00
Phone: +43 (1) 5860300
From Thailand to Japan: Sha Guo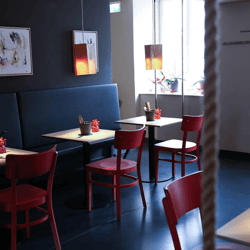 The gastronome Lili Wu, who comes from South China, lives for the East Asian cuisine and already runs four other restaurants in Vienna. At Sha Guo, everything revolves around Asian soup dishes. Although the furnishings are minimalistic, the menu offers guests the whole bouquet of Asian flavours. Sushi, ramen, salads, curries – no wish remains unfulfilled. The question about the right drink is also quickly answered: The restaurant sees itself as an Asia dinner cocktail bar, which is best enjoyed during happy hour.
Where? Wiedner Hauptstraße 37
When? Monday to Saturday: 11.30 – 24.00, Happy Hour: 18.00 – 20.00 and 22.30 – 23.30
Phone: +43 660 1911803
Last stop: Paulanergasse
For all veggies and those who want to be one: Venga Bistro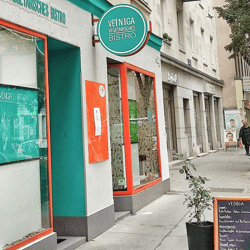 The Venga is a small, cosy bistro that invites you to an uncomplicated lunch. Here all dishes are vegetarian, many vegan. The principles of the restaurant: only regional, seasonal and organic products are used. At lunchtime you can choose between two menus that change daily. A sweet touch is also provided, with a selection of vegan cakes. In addition, there are homemade lemonades in summer and warming ginger tea in winter. From May to September the sunny garden offers space for about ten people.
Where? Wiedner Hauptstraße 31
When? Monday to Friday: 11.30 – 15.00
Phone: +43 664 2625892
Text Sources:

https://www.derstandard.at/story/2000012092020/chronische-ofenleber-im-neu-eroeffneten-duspara
http://www.salzundburger.at/SalzBurger_Speisekarte_Drinks.pdf
https://www.falstaff.at/ld/r/dining-ruhm-wien/
https://www.falstaff.at/ld/r/tancredi-wien/
https://www.falstaff.at/ld/r/sebastiano-wien/
https://wieden-bräu.at
https://gastronews.wien/2017/04/sha-guo/
Image Sources:
Header Image: ©djile/Adobe Stock
Duspara: https://www.derstandard.at/story/2000012092020/chronische-ofenleber-im-neu-eroeffneten-duspara (Foto: Gerhard Wasserbauer)
SalzBurger: http://www.salzundburger.at/burgerlokal.php
Sebastiano: https://kurier.at/chronik/wien/eva-maria-marold-geniesst-thunfisch-unter-engeln/194.725.005 (© Image: KURIER/Gerhard Deutsch)
Dining Ruhm: https://gastronews.wien/restaurants/diningruhm/
Tancredi: https://www.tancredi.at/
Wieden Bräu: https://wieden-bräu.at
Sha Guo: https://shaguo.business.site/