During the whole week, Dipl. Ing. Maurice Würschl is working as the Sales Representative for Miele. Most of his work is happening in Vienna. Here, he spends two or three days a week, meeting different architects, builders and investors in order to equip high-class housing projects (just like PhilsPlace) with devices by Miele. In an interview, he tells us more about why Vienna has become a second home for him over the time and what the design of our apartments has to do with that.
You chose to stay at PhilsPlace during your time in Vienna. Why did you choose our apartments rather than a hotel?
For me, the main and most beautiful difference between PhilsPlace and a classical hotel room is the size of the apartment. Actually, working on a PC is much more comfortable at PhilsPlace than in a tiny dark hotel room. The big window front is providing a lot of light, which is kind of inspiring for me because it's creating an atmosphere that doesn't make me feel constricted in any way. Since I travel a lot by car, I obviously really appreciate the parking space right in front of the door. The slogan "easy. cosy. cool" really nails what it's like living at PhilsPlace.
How did you like the booking process?
To be honest, it happens quite often to me that I forget to book a room in time. Most of the time, I realize this when I'm already in the car on my way to my next destination. Then, a quick phone call is enough and the booking is done. At the check-out, I simply drop off the key card and off I go. The invoice will be sent directly to my company. All of this really helps saving time.

How do you usually look for accommodations for business trips?
When it comes to accommodations, a central location is the most important thing to me. The place where I'm staying has to be close to the place where I'm doing business. Usually, I'm looking for spaces that appeal to me visually and are located in a vibrant area. If I find that, I remain loyal. That's why I've been a regular guest at PhilsPlace for a year now.

How did you find out about us?
I've been familiar with PhilsPlace for many years now, as Miele has been part of the construction project from the beginning. At that time, we equipped the apartments with elegant and simple solutions for the kitchens.

How does the process look like when you hear about a new project? Do you directly get in touch with the customers?
It is part of my job to always keep my eyes wide open for new exciting projects. Thereby, I'm looking for ways to get in contact with investors, architects and builders to inform them about the advantages of our equipment. In the best case, they recognize the added value of our products and we become business partners.

What are the advantages of Miele products compared to competing
products?
I only need three words to answer this question: Safety, reliability and durability.
In addition, for me personally, the charisma of the brand Miele is a further advantage. I really appreciate that I can rely on high-quality devices even on my business trips at PhilsPlace. Everything should be just as comfortable as it is at home.

What do you like most about the apartments? – Apart from the Miele devices?
I appreciate the tasteful decor and the generosity of the rooms. When colleagues or business partners are visiting, they marvel at the compactness and sophistication of the facility. Once I had a colleague over, who actually began to measure the apartment because he was in the process of redecorating his own apartment. For me, design is one of the most important factors to feel comfortable.

How important are our additional offers to you? Do you visit the restaurants and supermarkets on site?
I don't only use these offers, I depend on them! That's because I'm probably the only Miele employee who cannot cook. But here you don't really have to, as I can always go to the premium supermarket BILLA PLUS or Hofer and provide myself with culinary delights anytime. It's really simple to maintain a healthy and tasteful diet here.

Recently, a Miele press conference was held in the in-house sky-loft. How did that happen?
At the beginning of the year, we were looking for an extraordinary location for a press conference with Dr. Markus Miele to present our new smart dishwasher. I immediately proposed PhilsPlace. In the end, everybody was thrilled by the event – because of the product and the panoramic view.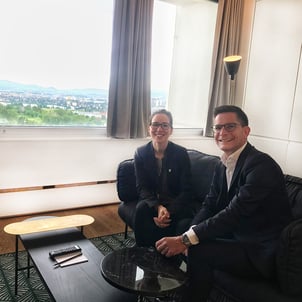 Kristin Oberweger, General Manager at PhilsPlace
Dipl. Ing. Maurice Würschl, Regional Representative at Miele GmbH (f.l.t.r)
We'd like to thank Dipl. Ing. Maurice Würschl for the time he took for the interview with us. We are happy when we can create a place of arrival for someone who travels so much. If you want to share this place with family and friends, we always welcome you and your guests at PhilsPlace. Just inform the reception and we will take care of everything else for you.
Pictures: ©PhilsPlace